SUMMER OF SHAKES!
---
The Summer of shakes campaign officially kicks off June 1st '22. Chef On Call is offering 1/2 price milkshakes all summer on app purchases across all stores! To unlock the deal all you need to do is order through the Chef On Call app!  For the true Chef fans. We got the SUMMER OF SHAKE BINGO CARD! Your summer mission. Complete the list.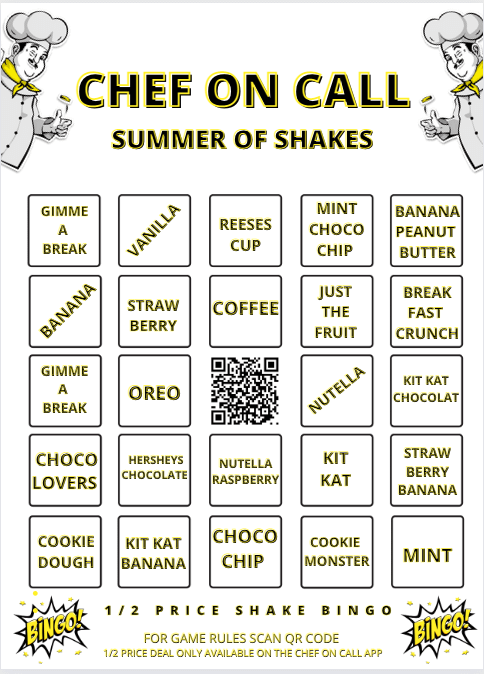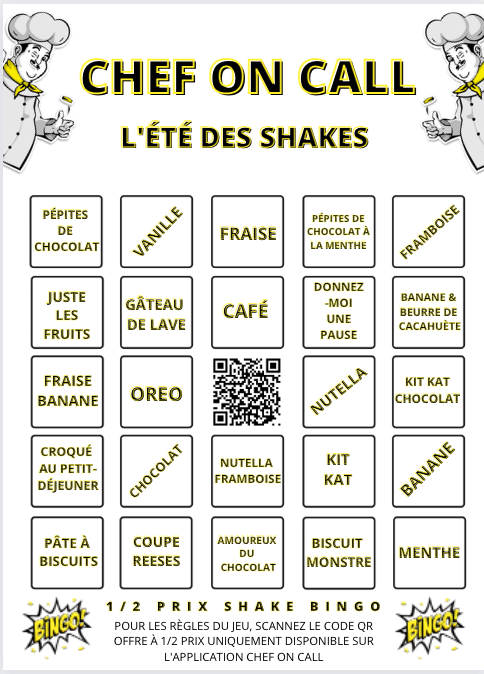 TERMS & CONDITIONS / RULES TO THE BINGO GAME
Game 1) Complete/ fill a line? Get 1 free item from that line (one time redemption)
Game 2) Complete a T (two lines) & get two free items from that line.
Game 3) Complete an X and get 3 free items from list.
Game 4) Complete the full card. Get a burger combo of your choice!
Anytime you win a game, DM us on insta @chef_on_call so we can hook you up with your prize!
(All free items are given back in chef coins. No using chef coins to complete the rest of the games. Has to be a full 1/2 price purchase per box to win any of the above games)
CONDITIONS GÉNÉRALES / RÈGLES DU JEU DE BINGO
Jeu 1) Compléter/remplir une ligne ? Obtenez 1 article gratuit de cette ligne (échange unique)
Jeu 2) Remplissez un T et obtenez deux articles gratuits de cette ligne.
Jeu 3) Complétez un X et obtenez 3 articles gratuits de la liste.
Jeu 4) Remplissez la carte complète. Obtenez un combo burger de votre choix!
Chaque fois que vous gagnez un jeu, envoyez-nous un DM sur insta @chef_on_call afin que nous puissions vous connecter avec votre prix !
(Tous les articles gratuits sont rendus en pièces de chef. Pas d'utilisation de pièces de chef pour terminer le reste des jeux. Doit être un achat complet à 1/2 prix par boîte pour gagner l'un des jeux ci-dessus)
About us page